Electronic Interconnect - Power of Custom
Featured Product from Advanced Interconnections Corp.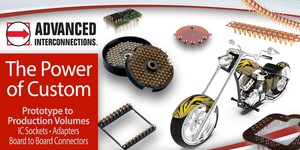 Tap into our toolbox of connector know-how. Work directly with our experienced product engineers to create a customized connector, or use our online Build-A-Part™ tool to configure one of our standard designs to meet the needs of your application.
Advanced Interconnections can quickly design a customized solution for surface-mount socketing, or device package conversion, by combining extensive in-house technology, proprietary SMT solder-ball features, and 30+ years of design engineering experience.
We offer options that are tailor-made to your needs.
Our 4-step connector customization process starts with an application assessment with one of our experienced product engineers, then we move right into project review. Once this is complete, we work with you to create a design solution followed by product manufacture. We provide a one-stop experience that will completely fulfill your project design needs.
Or, go on our website to learn how to Build-A-Part Number, including everything from pin-count to plating type – it's easy to build the exact part number needed for your application. Watch a quick video to learn how, and then select a product from the list to get started.
Advanced Interconnections is a leading designer and manufacturer of innovative interconnect solutions for electronic applications worldwide. We are committed to customer satisfaction by meeting quality and delivery requirements in pursuit of our mission, while continuously measuring and improving our processes within the Quality Management System.
Our three guiding principles are:
Communication – Requirements are communicated and understood throughout our organization, supply chain, and customer base.
Consistency – Processes are defined and employees are trained to ensure accurate and repeatable results.
Continuous Improvement – Objective data is used to measure and drive improvements.
Contact us today to partner with us in our custom connector capabilities.
Advanced Interconnections Corporation designs and manufactures electronic interconnect solutions, specializing in customized PCB connector and IC socketing systems for high reliability applications, with world headquarters located in Rhode Island (USA). For more information, contact Advanced Interconnections' customer service department at info@advanced.com or visit www.advanced.com.
Headquarters: 5 Energy Way, West Warwick, RI 02893 USA. Tel: (401) 823-5200.