Customized SMT Perimeter Connectors
Featured Product from Advanced Interconnections Corp.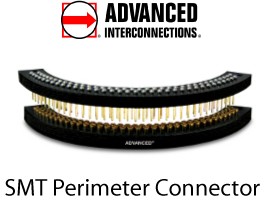 SMT Perimeter Connectors are created from easily customized FR-4 insulators on in-house driller/routing machines and incorporate high quality screw-machined, solder ball terminals (available down to 0.50mm pitch) on both the male header and the mating female connector (socket). Vertical integration including precision CNC machining and hundreds of existing screw-machined terminal designs eliminate the need for expensive tooling and set-up costs such as stamping dies - making customized solutions affordable, even in low volumes as projects ramp-up.
The semi-circle design maximizes space when stacking circular printed circuit boards and features an integrated keying/polarization feature. The light-weight, low profile FR-4 insulator can be easily transitioned to a molded design to further reduce costs in production volumes. Typical applications include military and medical equipment where mission-critical reliability and the ability to provide custom designs in low volumes are required.
Read our Application Note for more information or contact us to design a connector customized to your requirements.
Tap into the Advanced® Tool Box for:
Unique shapes to maximize board space
Board to Board and Cable to Board solutions
Customized screw-machined pins
Multi-finger contacts for reliability
Innovative designs can reduce overall connector count and associated assembly costs
Easily transition to molded designs as volumes ramp-up
Military, medical, industrial...anywhere that high reliability is needed
Options such as pick-up covers, keying/polarization, integrated signal and power, special plating, etc.
Advanced specializes in solutions for blind mating, harsh environments, and tight board space restrictions
About Advanced Interconnections:
Advanced Interconnections designs and manufactures customized interconnect solutions for semiconductor development and high reliability electronic applications including medical, military, automotive, and telecommunications. IC sockets, package conversion adapters, and board to board connectors feature screw-machined terminals for field-proven performance and durability. From prototype to production volumes, innovative designs are produced to customer-specific requirements in our fully integrated manufacturing facility in the USA.