Designs That Connect
Featured Product from Advanced Interconnections Corp.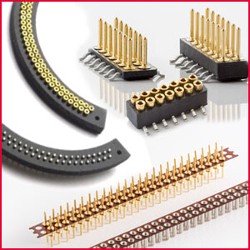 Customized board-to-board connectors from Advanced Interconnections Corp. solve difficult design challenges with innovative solutions that work around PC board space constraints, enable automated assembly, facilitate blind mating, and more.
Advanced Interconnections specializes in customized interconnect solutions for development, test, validation, and volume production applications. We design to your requirements while adding value and reducing time-to-market from prototype through production.

In-house capabilities include:
Experienced design engineering
Precision screw machine technology
State-of-the-art tool making from mold design though cutting steel
Injection molding equipment
Precision drilling and routing capability
Surface mount assembly technology
Device attachment
Automated optical inspection
Tape and reel packaging
Work directly with our experienced Product Engineers to create a customized connector, or use our online Build-A-Part™ tool to configure one of our standard designs to meet your application.