Blind-Mate, High Flow Quick Disconnect- Internal
Featured Product from Beswick Engineering Co., Inc.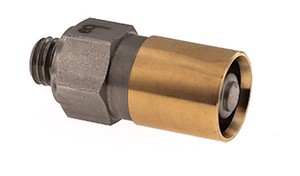 The QDI3NL non-latching/blind-mate quick disconnect is ideal for use in cooling systems (such as are common in process, semiconductor, instrumentation, and aerospace industries) for quick serviceability. Disconnection and connection is accomplished without the need to manually move a releasing sleeve and therefore the quick disconnect can be positioned in inaccessible locations. The dry-break design prevents leakage and fluid spray during assembly. Leak-free operation is often critical in cooling system applications. Flow through the quick disconnect occurs when the QDI3NL is connected to a QDE3NL.
The dry break design feature minimizes dead volume (the space between the internal and external ends when connected) to essentially eliminate any leakage when disconnecting and connecting. Machined with M8 external threads, this fitting allows for a substantial amount of flow (0.180 inch- effective orifice) while maintaining a small envelope 9/16 inch hexagonal body.
Manufactured in stainless steel and available with EPDM or Viton O-ring seals.
Max Pressure Rating: 500 psig while connected. 200 psig while connecting or disconnecting.
Maximum Spill Volume Upon Disconnection: Approximately 0.006ml
Materials: 302, 303 and 316 Stainless Steel components.
Features:
Quick serviceability.
Connection and disconnection can be accomplished remotely. Not necessary to have direct access to the quick disconnect.
Flow through when connected. No flow when disconnected.
Leak free connection and disconnection.
High flow design in a small overall package.