Multiple Line Quick Disconnect- Shut Off-External
Featured Product from Beswick Engineering Co., Inc.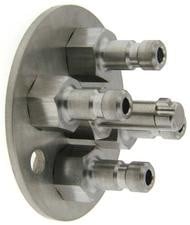 Disconnecting multiple lines is a snap with Beswick quick disconnect (4, 6 and 8 line) QDC-101-E-DS assemblies. The external end of the multiple line quick disconnect is designed with an automatic shut-off valve and is compatible with Beswick internal mating half of the assembly, QDC-101-I-DS. The QDC-101-E-DS incorporates a keyed location pin to insure correct orientation of the fluid lines during connection. To operate the snap-type multiple line quick disconnect, simply push the sleeve in to disconnect the fluid lines and push the internal and external ends together to connect the lines.