Laminating and Coating Services
Featured Product from Budnick Converting, Inc.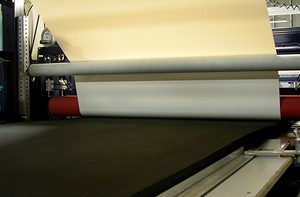 Adhesive lamination and coating allow you to create custom adhesives that fit your project's specific needs by applying almost any adhesive to nearly any substrate.
Adhesive Coating
This process applies a precise thickness of either permanent or removable adhesive to your material. Your specifications determine the coating thickness necessary for optimal performance. Adhesive coating is also a way to create custom patterns of adhesive, including irregular shapes, lanes, and ungummed areas - meeting whatever production requirements you may have.
Lamination
Our 60-inch wide heat laminating system allows us to laminate one or both sides with adhesive and cut sheeted materials in a single pass. We can quickly laminate adhesive to rigid and flexible foams, rubbers, plastics, textiles, FRP panels, and many other materials.