Spooling and Finishing Services
Featured Product from Budnick Converting, Inc.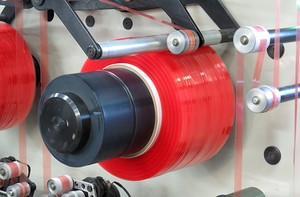 Custom finishing personalizes your product or converts it into a format that works best for your process, whether you need user-friendly finished rolls or long-length spools to decrease machine stoppage.
Laminating
Budnick can procure jumbo rolls of adhesive tape from most manufacturers. We can convert this adhesive to your desired width and laminate it to almost any specified material. You may want to contract us out to laminate your material.
Rewind Finishing
A variety of rewind finishing tables are used to customize your roll size and unwind direction. Rewind finishing also serves as a secondary quality check of materials.
Custom Packaging
Packaging is a critical, yet often overlooked attribute to your product. Budnick can shrink wrap rolls, custom print labels for cores, boxes, and bagging, provide various inner diameter cores, ship material with plain or printed cores and boxes, barcode products or cases, assemble kits and customize your product in many other ways.
Spooling
Spooling is the process of splicing together a series of cut rolls of material and wrapping them together as one reel. Spooled rolls are traverse wound onto one wide core. By creating one reel of material, we can decrease your downtime in production. Moreover, our multiple head spooler is capable of producing reels of narrow width products that would be tough to handle in a traditional "pancake" form. The multiple head spooler also is equipped with a die station, which allows us to provide extended tabs (finger lifts) on double coated adhesive tapes.