T-Seals
Featured Product from CT Gasket & Polymer Co., Inc.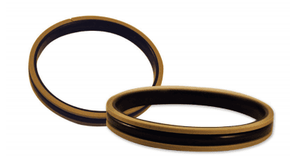 Design Principle
A T-seal consists of a ring of elastomeric material that has a T-shaped cross section, and two bands of relatively rigid material that belong on either side of the elastomer ring. The ring acts as the sealing component of the unit, and the two rigid bands act as backup rings that prevent extrusion of the elastomer ring into the extrusion gap of the gland.
As a bonus, the backup rings in a T-seal serve an additional purpose: they firmly hold the sealing component to the floor of the gland,
preventing the seal from twisting. As a result, T-seals are practically immune to spiral failure.
For maximum seal longevity, the seal must be constructed from the correct elastomer for the particular application. CTG can build seals from elastomers that tolerate high or low temperatures, high or low pressures, dynamic applications, and corrosive environments. If you are unsure which material would be best, ask us—our engineers will select the right material for your situation.
Applications
Oilfield hydraulic pistons and rods
Other static or reciprocating applications
High or low temperatures
High or low pressures
Corrosive environments
Benefits
Fabricated from custom materials to meet the exact needs of the application.
Directly replaces an O-ring in the same size gland (No re-machining or redesign required)
Highly resistant to spiral (twisting) failure
Highly resistant to extrusion
Gives a tight, leak-proof seal
Usable with comparatively large extrusion gaps
Provides prolonged service
Requires minimum maintenance