Conax Single Electrode Power Sealing
Featured Product from Conax Technologies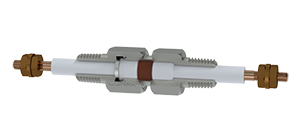 Conax Model EG Feedthroughs provide single electrode sealing to 2000 VDC
Conax Technologies' Model EG Feedthroughs are designed to conduct rated amperage through vessel walls for applications such as vacuum furnaces, autoclaves, transformers, power supplies and other vessels requiring a sealed environment. EG Feedthroughs also electrically and/or thermally isolate single electrodes, tubes, temperature sensors and liquid level probes in pressure/vacuum applications. These bare electrical feedthroughs seal against gases and liquids and resist element movement under pressure.
The Conax difference: soft sealant technology
Our EG Power Compression Seal Feedthroughs feature the soft sealant technology pioneered by Conax which, when combined with mechanical compression, results in a secure seal on wires, probes, and electrodes.
While competitive seals that utilize epoxy fillings are easy to install, they're often unreliable in protecting your environment due to incorrect bonding of the epoxy to the elements or housing. Cracks will develop, and this allows gases or liquids to leak around the elements.
Thanks to our soft sealant technology, Conax fittings maintain constant compression around the elements throughout the life of the seal to minimize risk of gas or liquid leaks.
Features
Temperature range: -300 °F to +1600 °F (-185 °C to +870 °C)
Pressure range: Vacuum to 8,000 PSIG (551 bar)
Voltage rating: to 2000VDC
Amperage rating: to 400 amp
Seals a single electrode or element
Supplied with or without conductors
Easy to assemble and adjust in the field
Stainless Steel reusable fitting for gas or non-conductive liquid
Available without electrode
Learn more about Conax Technologies' innovative sealing solutions designed for a broad range of industries and applications.