High temperature thermocouple assemblies
Featured Product from Conax Technologies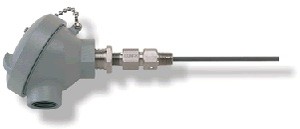 Reliable thermocouples for a variety of industries
For more than 70 years, Conax has been designing and manufacturing high temperature thermocouples for a broad range of industries and applications. This extensive experience has helped Conax become a leader in supplying high-quality, standard sensors. It has also given us the expertise to modify standard designs, creating customized solutions that meet our customers' toughest challenges. These customized sensors are designed to increase sensor life and ultimately lower the cost of ownership.
We understand that cost of ownership includes more than just the cost of the sensor itself. That's why we take other important factors into account such as:
ease of installation,
initial accuracy,
accuracy drift over the life of the sensor, and
the cost of lost product or production due to premature sensor drift or failure.
High temperature applications
Conax Technologies' high temperature thermocouples are specifically designed for durability and reliability in high temperature applications to 4200?F (2315?C). These applications typically involve oxidizing, reducing, inert gas or contaminated atmospheres that challenge the life of the thermocouple.
For temperatures less than 1230?C, base metal thermocouples with thermoelements of types J, K, E, T and N are commonly used.
For temperatures exceeding 1230?C, thermocouples with thermoelements of types R, S, B and C are commonly used. Additionally, more exotic sheath materials are used which include:
Refractory metals such as molybdenum, tantalum and tungsten
Ceramic sheath materials such as alumina, silicon carbide, mullite, etc.
Other high temperature thermocouple considerations include the internal wire insulation, appropriate process connection hardware, wire termination styles, and possible use of extension grade conductors vs. thermoelement conductors for the lead wiring.
Industry applications
S24-AL25-AL-U-T5AL(S4BLD4)PGAG–16.00" Platinum thermocouple assembly with support tube for controlling temperature inside a vacuum furnace in a crystal growing application.
S24-AL18-AL-U-T5SS(S4BVC4)–10.00" Platinum thermocouple assemblies with support tubes for limit and control, used in a vacuum-environment, heat-treat furnace with inert-gas purge.
C24-SASIC37-AL-U-T5CI(PG4BL)–6.00" Tungsten-rhenium Type C assembly with sintered alpha silicon carbide sheath tubewell for use in metal sintering applications.
S24-AL18-AL-B-PJ-48.00"–SP Thermocouple for monitoring surface temperature during the manufacturing process of flat panel glass. A unique bare 44 AWG wire hot junction (0.002" diameter) maximizes time response while minimizing surface contact.
R24-MO12-AL-U-T3(36")–18.00" Single-point platinum thermocouple with molybdenum sheath to manually profile rapid thermal process epitaxial reactors.
R24-MO18-AL-U-T3(6")PJC–16.00" Molybdenum-sheathed platinum thermocouple, terminated with quick disconnect male plug and flexible leadwire, used for process temperature control in MOCVD reactors.
AS9100 with ISO 9001:2015 certified
Conax high temperature thermocouples are engineered, tested and inspected before shipment. Our quality assurance programs conform to AS9100 with ISO 9001:2015 and IEC 80079-34 standards for design and manufacture of temperature sensors, mineral insulated cable, and pressure and vacuum sealing devices.
ISO/IEC 17025:2017 accredited and AMS 2750 compliant calibration lab
With a calibration laboratory that is ISO/IEC 17025:2017 accredited and ILAC MRA certified, Conax is fully capable of producing calibration data that's compliant with the latest AMS 2750 standards. ISO/IEC 17025:2017 sets the national standard of excellence for the competence of testing and calibration laboratories and recognizes Conax as fully competent to produce valid and reliable results.