Multi-hole ceramic (MHC) compression fittings
Featured Product from Conax Technologies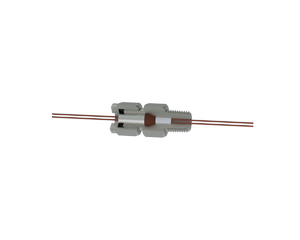 Multi-hole ceramic compression seal fittings
Conax Technologies' multi-hole ceramic (MHC) fittings seal multiple thermocouple, RTD or thermistor probes, tube bundles and liquid level sensors, or a variety of devices within a single fitting.
The soft sealant technology seals against gases or liquids and resists element movement under pressure. Immersion lengths can be easily adjusted in the field. Individual elements can be set at different lengths, making it easy to monitor multiple points. Plus, MHC compression seal fittings enable you to easily replace elements.
Cap Style A offers a mounting thread only. Cap Style B provides threading on both ends for attachment to conduit or terminal heads. Alternative sealant materials are available.
Features and specifications
Temperature range: -400°F to +1600°F (-240°C to +870°C)
Pressure range: vacuum to 10,000 PSig (690 bar)—see Pressure Ratings in the MHC catalog section
Seals 1–24 elements
MHC fitting bodies with NPT threads or SAE threads constructed from 303SST standard
Weld neck style fittings constructed from 316LSST standard
Followers for all styles constructed from 303SST standard
Ceramic insulators
Many optional materials also available, including 316LSST, Monel 405, Hastelloy C276, Inconel and more
Replacement sealants and elements
The replaceable sealant permits repeated use of the same fitting. Elements can be easily assembled or replaced in the field. Simply insert the element and torque the cap. To replace the sealant or elements, simply loosen the cap, replace the necessary items, relubricate and retorque the cap. Replacement packing sets are available consisting of a sealant and two ceramic insulators. Replacement sealants may also be ordered separately without insulators.
If you need customization for a specific application, please click the "Email Supplier" button or submit a form to contact us.