Water Hammer? DFT Check Valves Prevent It….
Featured Product from DFT Inc.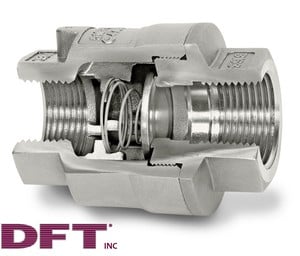 The DFT® Model SCV® Check Valve is a corrosion resistant, dependable, versatile and economical spring-assisted, in-line check valve for a wide range of applications. The SCV Check Valve provides tight shut-off and protects other equipment in the system from water hammer in liquid, gas or steam services. Stainless, Hastelloy C and Alloy 20 construction insures a long service life.
DFT Inc., manufacturers of the broadest product offering of in-line, spring assisted, and silent check valves, builds the SCV Check Valve for liquid, steam or gas applications. Its ½"-3" threaded, stainless steel body rated 750 CWP/500 WSP, and ruggedly constructed seat and disc will outperform and outlast other styles of check valves. Built for longevity, SCV Check Valves have performed flawlessly in service for over one million cycles. Widely accepted amongst OEM's and company's seeking to eliminate repeated service issues, the SCV Check Valve delivers the return on investment.
Watch our Water Hammer Video to see how DFT's Check Valves outperform swing check valves and prevent water hammer.
DFT also offers the SCV Check Valve in Alloy 20, 300#, Hastelloy® C, and socket weld connections, 3600 CWP.
And did you know DFT would size your check valve based on YOUR flow conditions?
Want to find out more about the SCV Check Valve and the other fine DFT check valve product line ranging from ½"-36"? Contact us at dft@dft-valves.com and visit our website at www.dft-valves.com.