Micro-Drive PLUS DC Drive/ Process Controller
Featured Product from Dart Controls, Inc.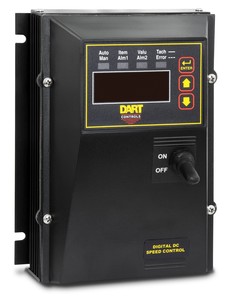 Dart Controls Inc. breaks new ground by integrating a programmable display, DC motor control, and PID controller into one package - the MD PLUS Series. The MD PLUS integrated design saves installation cost, panel space and in many applications switches, relays, timers and other discrete devices.
The MD PLUS is a field-programmable closed loop DC drive system employing an advanced velocity-form PID algorithm for accurate motor or process loop control. The isolated 4-20mA input and output provides for direct integration with SCADA / PLC systems. Coming soon will be expanded capabilities including serial communication interface.
The MD PLUS is ideally suited for metering pump, blending, process oven, parts washer and other applications where the final driven element is a DC motor. The MD PLUS combines all the typical control requirements for these applications into a single package. The MD PLUS accepts a 4-20mA signal to control the motor (pump/conveyor) speed, and sends a 4-20mA output signal back to the Process Control/ SCADA proportional to the actual running speed of the motor. Both input and output signals are isolated from each other and from the control itself. The MD PLUS includes two field-programmable Form C relay contacts that may be configured to indicate a wide variety of conditions such as motor is running, "fault" conditions, and other information.
The combined functionality of the MD PLUS saves installation cost and space. The configurable modes (Master, Time, Ratio) allow one device to be used in multiple applications. This simplifies the end user experience and field support of delivered systems.
The MD PLUS will directly support DC motors fractional through 2HP. Configurable inputs allow for drive Inhibit, E-stop, Jog, and 2 or 3 preset speed operation. On-board diagnostics include loss of speed sensor feedback, drive at full output, actual speed outside limits, drive healthy (running) which may be tied to Form C contact alarm / status outputs.
The MD PLUS is available in both enclosed and panel-mount versions. The MD50E-420 version comes in a NEMA 4X enclosure complete with an auto/off/manual switch on the cover. The 1/8 DIN MD40P-420 and 1/4 DIN MD50P-420 panel-mount versions come complete with a NEMA 4X rated faceplate, gasket kit, stainless steel mounting hardware, and connections for an external auto/manual switch.