ADN4620 Dual LVDS 2.5 Gigabit Isolators
Featured Product from Digi-Key Electronics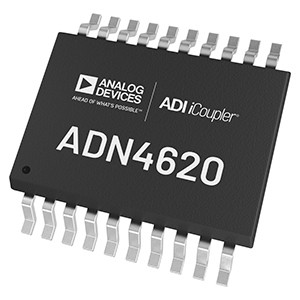 ADI's ADN4620 is a dual-channel, signal isolated, low voltage differential signaling (LVDS) buffer that operates at up to 2.5 Gbps with very low jitter. The devices integrate ADI iCoupler technology enhanced for high-speed operation to provide drop-in galvanic isolation of LVDS signal chains. AC coupling, level shifting to the LVDS receivers and from the LVDS drivers, or both allow isolation of other high-speed signals, such as current mode logic (CML).
The ADN4620 includes a refresh mechanism to monitor the input and output states and ensure that it remains the same in the absence of data transitions (for example, at power-on). For lower power consumption and high-speed operation with low jitter, the isolator circuits rely on 1.8 V supplies. In comparison, 3.3 V supplies are used for LVDS receivers to support the full common-mode range with an input voltage range (input common mode plus differential input voltage) of 0 V to 2.4 V per Table 2 in the data sheet.
The devices are fully specified over a wide industrial temperature range and are available in a compact SSOP package with 5.3 mm creepage (for reinforced insulation at AC mains voltages).
The EVAL-ADN4620EBZ allows quick and easy evaluation of the ADN4620 LVDS isolators without needing external components. The ADN4620's iCoupler technology combines a 2-channel isolator with LVDS receivers and drivers into a single, 20-lead SSOP package. The ADN4620 is capable of running at data rates of up to 2.5 Gbps with low jitter.
Features
3.75 kVRMS

LVDS isolators
Complies with TIA/EIA-644-A LVDS signal levels
Dual-channel configuration (ADN4620: 2 + 0, ADN4621: 1 + 1)
Any data rate up to 2.5 Gbps switching with low jitter

5 Gbps total bandwidth across two channels
2.15 ns typical propagation delay
Typical jitter: 0.82 ps rms random, 40 ps total peak-to-peak

Lower power 1.8 V supplies with 3.3 V supplies for I/O
±7 kV IEC 61000-4-2 ESD protection across isolation barrier
High common-mode transient immunity: 70 kV/μs typical
Safety and regulatory approvals (20-lead SSOP package)

UL (pending): 3750 VRMS

for 1 minute per UL 1577
CSA Component Acceptance Notice 5A (pending)
VDE certificate of conformity, reinforced insulation (pending)

DIN V VDE V 0884-11 (VDE V 0884-11):2017-01
VIORM = 1500 VPEAK (maximum working insulation voltage)

Enable or disable refresh (low-speed output correctness check)
Operating temperature range: -40°C to +125°C
Compact SSOP package with 5.3 mm creepage
Applications
Analog front-end isolation
Data plane isolation
Isolated high-speed clock and data links
Multigigabit serialization/deserialization (SERDES)
PCB-to-PCB optical replacement (for example, short reach fiber)