RESTORE-X® Deck Restoration
Featured Product from FORREST Technical Coatings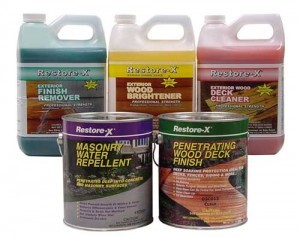 RESTORE-X® Wood Restoration Products can make your job easy and increase your satisfaction. RESTORE-X® products are biodegradable, odorless, and non-flammable. They are also water based for easy clean-up and specially formulated for your safety. In the past, the only solution to weathered wood and deteriorated, semi-transparent stain or clear exterior finishes was to hide them and the natural beauty of the wood under a new coat of solid stain or paint. Similarly, surface preparation of deteriorated paints with the sanding and scraping has always been a labor intensive undertaking.

User Guide to Easy Wood Deck Restoration
Exterior Finish Remover (EFR): It is very important to allow Restore-X® time to dissolve the deteriorated finish and weathered wood. Latex paints may take considerably longer than oil base paints; so do expect some variation in removal time. Take a break while Restore-X® works for you, and then test several areas with a stiff brush and water. If the results are satisfactory, proceed with removal. Typically, removal times vary from 1-4 hours. If a second coat is required, wash away the first coat and reapply. Note: If recoating with paint or a solid-body stain, complete removal of weathered paint or stain may not be necessary. Any remaining stain or paint may provide a good substrate for adhesion. You will need to test the remaining paint or stain to determine if it is suitable for recoating.
Deck Cleaner: Unfinished weathered wood will take 1 to 15 minutes. Deteriorated stain in exposed areas removes in as little as 5 minutes. Stain in protected areas may require up to 1 hour. Expect some variation in the time required. Mist lightly with water every 15-20 minutes.
Wood Brightener: All wood should be clean before using Wood Brightener. Pressure wash surface or use EFR or Deck Cleaner before using Wood Brightener. All applications should be left to work 5-15 minutes. If first application leaves an uneven finish or does not brighten to your desired finish, simply reapply.
Penetrating Wood Finishes: To ensure a lasting natural wood color, always complete the Restore-X® process by applying a clear finish, wood preservative or semi-transparent stain as soon as possible. Time is less important when repainting, but avoid long delays that may allow dirt and/or mildew deposits.
FORREST World Headquarters • 1011 McKinley Street • Eugene, Oregon USA • 800-537-7201
Industrial Service Locations
990 McKinley Street • Eugene, Oregon USA • 541-868-1222
3335 NW St. Helens Rd • Portland, Oregon USA • 800-228-0207
1741 South Central Ave • Kent, Washington USA • 253-854-6372
3808 North Sullivan Road Bldg N-17 • Spokane, Washington USA • 509-924-3785