Proximity Sensors...Diffused Photoelectric
Featured Product from Fargo Controls, Inc.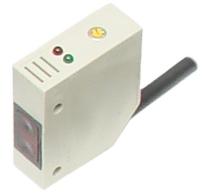 Photoelectric Sensor - Small Size Diffused
Fargo Controls announces two new Diffused Photoelectric Proximity Sensors with exceptional pricing. These new models have a smaller size and an increased operating range to 50 cm, 19.69" over our standard models. These new versions are coming in a rectangular plastic housing, have a sensitivity adjustment, and both normally open (light on) and normally closed (dark on) outputs.
Diffused Photoelectric sensors use the light reflected directly off an object for detection. They do not require reflectors or separate emitters. Typical applications include the control, detection, position, inspection and automation of machine tools, manufacturing systems and can be used in the following machinery: packaging, production, printing, plastic molding, & metal working, etc.
They operate on 10-30 VDC and have NPN or PNP outputs. Standard features include a 2-meter cable, mounting bracket, a protection degree of IP65, reverse polarity protection, and are CE compliant.
Pricing starts as low as $35.00 each.
Product information: http://www.fargocontrols.com/V_photoelectric_sensors.html