Proximity Sensors Low-Profile Capacitive
Featured Product from Fargo Controls, Inc.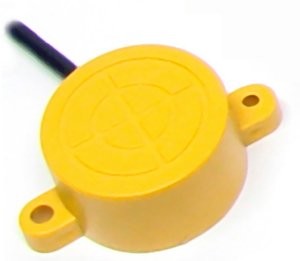 Fargo Controls offers two Low Profile Capacitive Proximity Sensors with exceptional pricing. These new models have a height of only 0.68" (17.5mm). Their small size allows them to be used in tight spaces where typical capacitive sensors cannot fit. These new versions come in a small cylindrical plastic housing, have a sensitivity adjustment, and both normally open and normally closed outputs.
Capacitive sensors are used to detect metal and non-metal objects (liquid, plastic, paper, glass, wood, etc). These models have an adjustable operating distance up to 15mm. This sensitivity adjustment is useful in applications, such as detection of full or empty non-metal containers. They are also water and dust tight, as well as, shock and vibration resistant making them perfect for a wide range of environments. They operate on 10-30 VDC and have NPN or PNP outputs.
Standard features include a 2-meter cable, a protection degree of IP65, reverse polarity protection, and are CE compliant.
These capacitive sensors are available for immediate release. Prices start as low as $39.00 each.
Product information: http://www.fargocontrols.com/V_capacitive_sensors.html