Custom Flat Flexible Circuit Cables
Featured Product from Flexible Circuit Technologies, Inc.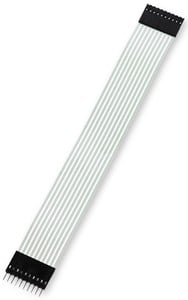 Flat flex circuits can be designed to hold any number of electrical components or simply as a connector between two circuits. Common industry applications include, but are not limited to: consumer electronics, telecommunications, medical, automotive, industrial and commercial.
As a unique flex circuit, the primary benefits of flat flex circuits include:
High Flex Life

Superior Heat Dissipation

Light Weight

Low Profile

Durability

Point-to-point Wire Replacement

Foldable

Multiple Termination Options
High Flex Life – Flat flex circuits are designed to flex and move throughout their life cycle. By virtue of their design, they will out-flex, or out-live, conventional wiring.
Superior Heat Dissipation – Due to the larger surface-to-volume ratio and compact design of flat flex circuits compared to traditional round wire, a shorter thermal path is allowed.
Light Weight – Compared to traditional round cables, flat flex circuits are extremely thin, making them considerably lighter.
Low Profile – Especially when compared to traditional cable, flat flex circuits' thin design can help resolve some of the most complex design challenges.
Durability – Particularly, in designs that have moving parts, the flat flex circuit can move and flex up to 5 million times without a failure.
Point-to-Point Wire Replacement – Depending on the number of point-to-point connections in a circuit design, flat flex circuits are an easy solution when connecting various components within an application.
Foldable – Flat flexible circuit cabling can folded many times over, enabling easier routing, particularly where space is limited.
Multiple Termination Options – Flat flex circuits can be attached through a hot bar soldering process, through hole soldering or a variety of different connectors.