Custom Membrane Switches
Featured Product from Flexible Circuit Technologies, Inc.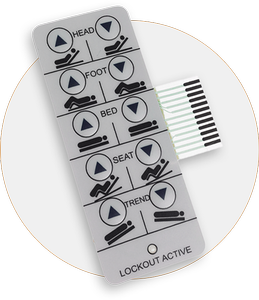 When pressure is applied to the top layer of the membrane switch circuit, it flexes through the punched openings of the spacer to establish electrical contact between conductive pads of the upper and lower sheets, momentarily closing the membrane switch circuit. When pressure is released from the top layer, the membrane switch circuit springs back to its normal open position.
We will take on any membrane switch design challenge involving graphic overlays and flex circuits because we are leaders in technology & process development of membrane switches and flex circuits. We will find a solution within our broad range of capabilities, including circuit design, engineering, manufacturing, die-cutting and surface mount technology. We take pride in tackling the toughest design challenges related to PTF flex circuits.
In addition to the general benefits described in flexible printed circuits, there are some unique benefits to polymer thick film circuits. They are as follows:
Environmentally Friendly – Utilizing additive printing of silver & carbon, the process of making polymer thick film circuits does not generate hazardous gases.
Cost Effective – Polyester is the most common substrate utilized in the PTF production process. As such, PTF circuits are generally cheaper to manufacture than other flex circuits.
Ease of Manufacture – Due to the simple screen printing process, membrane switches are very easily manufactured.
Cosmetic Appeal – Due to their streamlined design and the numerous graphic overlay options, polymer thick film circuits are cosmetically appealing.
Design Flexibility – As with all flexible circuits, design options are limitless.