Low Resistance Electronic Connector
Featured Product from Fujipoly® America Corp.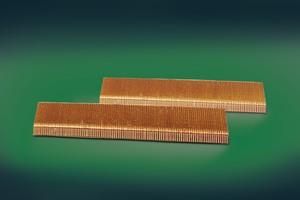 Fujipoly® Zebra® Gold 8000A elastomeric connectors transfers both data and power between parallel components and circuit boards while exhibiting a remarkably low electrical resistance of less than 25mΩ.
This interconnect component is constructed from a low durometer silicone core that is wrapped with 100 parallel rows of flat, gold-plated copper wires per inch. This precise construction allows the connector to accommodate PCBs with pad center spacing down to 0.25mm. Additionally, each 0.050mm x 0.127mm gold-plated element can deliver a current carrying capacity of 500mA.
Fujipoly's Zebra® Gold Series 8000A is a great choice for many board-to-board electronic packaging application with tight pad spacing and board separation tolerances. This connector can be specified in custom lengths from .200" to 6.00" and heights ranging from .10" to .50".