Voice Quality Analysis (PESQ, POLQA)
Featured Product from GL Communications, Inc.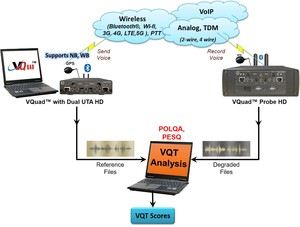 GL's VQT can work either independently, or in conjunction with VQuad™ - Dual UTA HD, or in conjunction with VQuad™ Probe. The VQuad™ Probe HD (combines with VQuad™-Dual UTA - PC into one single box) provides multiple interfaces for connecting to any communication device on a network (Bluetooth®, Wi-fi, 3G, 4G, LTE, PTT), VoIP, Analog, and TDM). VQT supports both manual and automated testing of Voice Quality within the network. All recorded voice files, at the VQuad™ system, are automatically transferred to the VQT system for analysis.
GL Voice Quality Testing (VQT) product utilizes several industry standard ITU algorithms in order to measure the speech quality of a transmitted voice file. VQT compares the original unprocessed signal with the degraded version using POLQA (ITU-T P.863) and PESQ (ITU-T P.862+P.862.1) international standard voice quality test methods.
All results associated with the VQT analysis as well as the call control events are transferred to the Central Database and accessed using GL's web-based WebViewer™.
ITU Algorithms
Perceptual Objective Listening Quality Analysis (POLQA)

Operations Performed by POLQA
Results Provided by POLQA



Perceptual Evaluation of Speech Quality (PESQ)

Operations Performed by PESQ
Results Provided by PESQ



ITU.56 Measurements
Modes of Operation
Auto Measurement - Multiple Auto-Measurement sessions can be configured, with unique set of requirements and a unique reference voice file.

Automatically performs the voice quality algorithms on these recorded voice files and displays the results.

Manual Measurement -

Manual mode is limited to single session configured with

degraded and reference voice files for measurements, performs the voice quality algorithms and the current measurement parameters are displayed.
POLQA v3 Upgrade Enhancements
POLQA v3 Super Wideband (SWB) supports 14kHz to full audio bandwidth up to 24kHz.
Full band analysis improves accuracy in assessment of codecs such as EVS, OPUS, AAC and LC3, as these codecs are used in many OTT applications.
With Full band support the discriminative power of POLQA at the upper high-quality range of the MOS scale is increased.
Current OTT voice services using VoLTE/5G include highly dynamic delay jitter which leads to variations of the duration of very short pauses during speech. POLQA v3 handles these variations with increased precision.
POLQA v3 reacts with less sensitivity to linear frequency distortions than POLQA v2.4. This makes measurements less dependent on the frequency characteristics of headsets.
Perceptual model of POLQA v3 is significantly improved and streamlined.
Features:
VQT software supports both POLQA ver 2.4 and optional upgrade ver3 (ITU-T P.863) and PESQ (ITU-T P.862/862.1/862.2)
VQT POLQA supports analysis of 16-bit uncompressed PCM and WAV files, including NB (8000 sampling), WB (16000 sampling), SWB (48000 sampling)
VQT POLQA supports analysis of 8-bit compressed a-Law and mu-Law files
VQT POLQA supports 12-bit Raw PCM Degraded voice files (NB, WB, SWB)
Fully supports POLQA ITU version 2.4 for POLQA NB and SWB (including WB) modes
POLQA supports user-specified Sampling Rate (specify any rate between 8K to 48K)
FR (Full Reference algorithm) measurements with high accuracy for dedicated tests in live networks
Supports Level Alignment of Degraded to Reference voice files
POLQA analysis results include POLQA MOS, E-Model R-Factor, Signal Level, Noise Level, Delay, and Jitter
Detailed Results / Statistics
Delay Measurement
Noise/Signal Levels (Activity, Peak, etc.)
Jitter (Min, Max, Average per Utterance)
Clipping (front, back, all) (PESQ Only)
PESQ/Delay per utterance
Impairment Factor (Ie) measurement (PESQ only)