Multi-Functional Carrier-grade Ethernet Tester
Featured Product from GL Communications, Inc.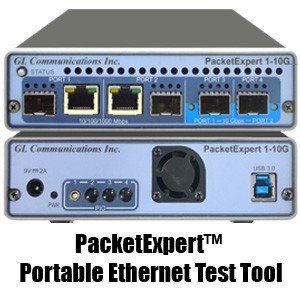 Following are GL product offerings in carrier ethernet test tools –
PacketExpert™ 1G (PXE100) - Available in Portable
PacketExpert™ 10G (PXG100) - Available in Portable only
PacketExpert™ 10GX (PXN100) - Available in portable (PXN100) and Rack (PXN1XX) variants
All these PacketExpert™ platforms support multiple functionalities for carrier-grade ethernet testing as listed below –
Wire speed BERT
Smart Loopback
RFC 2544 Testing
Record and Playback
Y.1564 (ExpertSAM™)
PacketBroker – (Tap-Filter-Modify-Aggregate Packets)
Multi Stream UDP/TCP Traffic Generator and Analyzer
RFC 6349 (ExpertTCP™)
WAN Link Emulation – IPNetSim (Multi-stream)/ IPLinkSim (Single-stream)
PacketExpert™ 10GX, a multi-functional ethernet tester supports all interfaces, functionality and port capacity similar to that of previous PacketExpert™ 10G for comprehensive testing of 10 Gbps /1 Gbps wirespeed Ethernet/IP networks.
With the capability to generate/receive traffic with stacked VLAN (Q-in-Q) and stacked MPLS, PacketExpert™ 10GX finds use in testing a wide range of networks – from testing individual links/switches, testing local Ethernet/IP networks (LAN), end to end testing of Wide Area Networks (WAN), testing Core/MPLS networks, and much more.
Applications
Multiport Ethernet Switch Testing
Test and verify QoS Parameters of network devices like Switches/Routers etc.
End to end testing of network paths for QoS parameters
In-depth troubleshooting of the Carrier network in the event of network failures or impairments
QoS testing of Triple-play services to ensure that they fully qualify SLA parameters
Terrestrial wireless, satellite, and other WAN technologies network validations.
Test VoIP network in real-time conditions to verify if it meets the quality requirements before you deploy.
Test routers, switches, VoIP handsets, VoIP PBXs, set-top boxes, and VoD servers
Common Features
Capable of simultaneous generation /reception of Ethernet to IP traffic at 100% at user-defined or auto-negotiated speed

Traffic options lets technicians generate Ethernet to IP frames with user-configurable frame length, and frame size with varying traffic rates

User selectable Electrical and/or Optical interface for ports allows mixed technology testing.

Layer wise testing - BERT, RFC 2544 Testing over Framed Ethernet (Layer2), Stacked MPLS (Layer2.5), IP and UDP. BERT testing is also supported on Layer1.

Field upgradable technology allows tester to stay current with industry trend.

Support for ARP, Ping, IPv6 etc.

Testing with stacked VLAN (Q-in-Q) – up to 3 levels

Testing with stacked MPLS, up to 3 levels

IP and UDP header checksum validation

Ability to define Ethernet, IP and UDP header fields

Multi-board support for all the applications
Hardware Specifications
Interfaces:
4 x 1G Base-X Optical OR 10/100/1000 Base-T Electrical

2 x 10G Base-SR, -LR -ER Optical only

Single Mode or Multi Mode Fiber SFP support with LC connector

Optional 4-Port SMA Jack Trigger Board (TTL Input/Output)
Protocols:
IEEE 802.3ae LAN PHY compliance

RFC 2544 compliance
Power Supply: +9 volts, 2.0 Amps
Physical Dimension: 8.45" x 5.55" x 1.60"