Grob Rolling Method
Featured Product from Grob, Inc.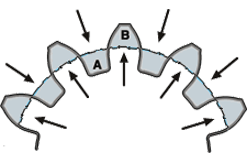 Grob Rolling Method
With Grob cold roll forming, the groove is formed down between the teeth. The material displaced from area "A" forms the tooth tip area "B". This is a severe reverse flow. With no elongation, the area of raw material displaced must be the exact same as the area it was displaced from.
Through this process, we're able to roll both even and uneven numbers of teeth on a cylindrical blank with symmetrical patterns only. Tubular blanks can be formed over a grooved mandrel, which permits internal corrugation of the blank white external shape is rolled
Cold Rolled
Save time & money, create cold rolled parts from bar stock. Choose from over 2100 existing profiles. If we don't currently have the profile you need, custom profiles are also available and are tooled quickly.
Cold Rolled Products
Grob's innovative method of cold forming gives customers numerous advantages over traditional machining. These include a stronger profile, higher surface finish, and the ability to make bar lengths.