Grob's custom spline shaft manufacturing
Featured Product from Grob, Inc.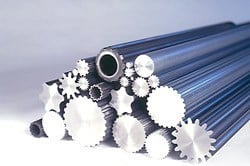 Custom Spline Shafts & Profiles
Even though Grob offers you a variety of standard spline shafts to choose from, some applications require a custom spline shaft or custom profiles. Grob's custom spline shaft manufacturing and engineering staff has the ability to create custom tooling providing you with the custom cold rolled spline shafts and profiles you require. Grob's engineers and tool makers are proud partners in the cooperative development of your custom spline shaft. After your new shape has been created, a sample will be sent for testing before beginning production of your new part. Grob's cold rolling process provides several advantages over hobbing, cutting and other metal forming methods.
Involute Spline Shafts
Straight Sided Spline Shafts
Metric Spline Shafts
Spline Shafts To your specifications
Custom Shapes
Grob is often asked if they can create custom shapes.The answer is YES. Grob understands that your product may require a custom shape. Either way Grob can provide you with the right shape for the job. Grob's experienced engineering staff will partner with your company to develop the exact custom shape that is required; whether you need a proprietary component or a replacement part.
Applications
Gerotor
Ratchets
Splines
Gears
Have It Your Way
Grob, Inc. is currently tooled to roll more than 2,100 different shapes from a wide variety of materials including mild and medium carbon steels, stainless steels and aluminum. Bar stock lengths with a rolled outside diameter of up to 6″ inches may be rolled. (No helical or skip tooth configurations.)
Timing pulleys, standard spur gears, involute splines, straight-sided splines, ball splines, gerotor and ratchets are all typical Grob-rolled products.
Need to Roll a Unique Shape?
Grob will economically custom tool to your specifications and provide a sample for your approval. Whether you need material rolled end to end, just on an end or on a blank Grob Rolling may very well be the best process for your needs.
"Well-Rounded" Capabilities
From 48 pitch Pinion Wire to Gerotor to 6″ dia. Pulleys, Grob, Inc. can produce a product to fit any of your special requirements. Send us your tubing or formed sheet metal drums, Grob is equipped to roll forms for surface enhancement, fluting, and spline shapes to your engineering specifications.
Cold Rolled Products
Standard
Spline Shaft
Timing Pulleys
Sleeve Bushings
Spur Gear
Custom
Broaching
Splines & Shapes
Spur Gears
Heat Exchanger Tubes & Drum
Watch>>Grob Inc. - Manufacturing Marvels
Expert Cold Rolling at Grob, Inc.
Grob, Inc. has been providing cold-rolled parts to a wide range of industries for more than 70 years. We've developed our own methods for cold forming gears, splines, shafts, bushings, and a variety of other metal parts. Our proprietary process facilitates the tightest tolerances in the industry while providing ultimate strength and optimal surface finishes.
We also feature non-standard stock lengths not offered by most competitors. We can offer smaller diameters in lengths up to 6 feet, and larger diameters up to 12 feet. Our customization capabilities are unmatched, and up to 70% o our business comes from providing custom-designed products.
At Grob, our innovative processes, extensive experience, and in-depth knowledge help us deliver superior products in short time frames—and at lower costs. Please contact us for more information or a quote on any of our standard or customized cold-formed products.