Cinch Johnson Quick Connect Adapter
Featured Product from Heilind Electronics, Inc.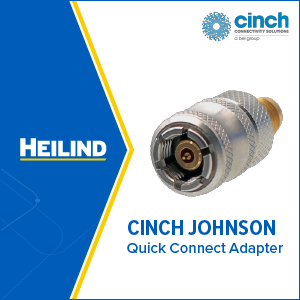 Cinch Connectivity Solutions, a Bel group company, now offers a 2.92 mm Quick Connect Adapter and High-Frequency SMA Quick Connect Adapters, designed to adapt from a standard threaded jack to a Quick Connect Plug. These adapters allow for rapid test connections to devices using 2.92 mm and SMA connectors, resulting in a more efficient testing process by reducing the time and effort required to connect and disconnect the test cable.
The 2.92 mm and High-Frequency SMA Quick Connect adapters are popular with test and R&D labs, supporting frequencies up to 40, 26.5, and 18 GHz with three unique parts. Both adapters obtain Mil-PRF-39012 electrical compatibility with a push and twist motion.
The 2.92 mm/SMA Quick-Connect Plug Adapter converts a standard 2.92 mm/SMA Plug test cable into a Quick-Connect cable, enhancing speed and ease of use in repetitive testing environments. The electrical performance is excellent up to 50 GHz with a very reliable connection and the mechanical performance is robust to support up to 1000 mating cycles. These adapters are very popular with all test labs and R&D labs and now can support frequencies up to 50 GHz, 40 GHz, 26.5 GHz and 18 GHz with four unique parts.
Applications: Test and measurement lab equipment; Instrumentation test fixture hardware