Finned Tubular Heaters
Featured Product from Backer Hotwatt Inc.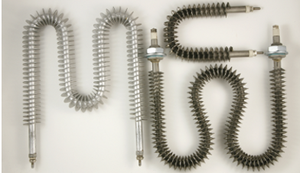 Features
Mechanically-bonded continuous fin assures excellent heat transfer and helps prevent fin vibration at high air velocities.
Several standard formations and mounting bushings available.
Standard fin is high temperature painted steel with steel sheath.
Optional stainless steel fin with stainless steel or incoloy sheath for corrosion resistance.
120v, 208v, 240v, 480v available.
Maximum Sheath Temperature
750°F (400°C) - Steel
900°F (480°C) - ST.ST./INCOLOY
Made in U.S.A.