Profile Home
About

Hotwatt, Inc., made in USA for over 67 years, manufactures electric heating elements including cartridge, air process, immersion, strip and finned strip, tubular and finned tubular, band, crankcase, foil, flexible glasrope and ceramic heaters. They are dedicated to the design and manufacturing of resistance heating elements for a variety of OEM, industrial, medical, commercial,avation, transportation, refrigeration/air conditioning and military applications.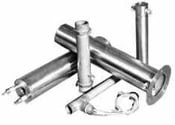 Hotwatt can provide you with heating units manufactured to your specifications to accommodate any heating problem. Hotwatt stocks all material for the different diameter units listed on this web page. Your order, specifying wattage, voltage, diameter, length, and lead type is readily and quickly fabricated from their inventory. In addition, many standard sizes are available from In-Stock for immediate delivery.
Air Process Heaters: Baking, Drying, Laminating, Metal Working, Packaging, Plastic Welding, Preheating, Sealing, Soldering, Shrink Fitting, Synthetic Fabric Sewing.
Band Heater Applications: Cylinders, Dies, Drums, Holding Tanks, Injections and Blow Molding Machines, and Plastic Extruders.
Cartridge Heater Applications: Compressor Crankcase Heating, Copiers, Dies, Food Processing, Glue Pots, Heat Sealing, Hot Melt Adhesive, Labeling, Medical Equipment, Packaging, Photographic Processing, Plastic Molding, Platens, Wax Pots.
Ceramic Heater Applications: Copiers, Dehumidifiers, Glue Guns, Heat Sealing Tools, Instrumentation, Resisters, Soldering and Desoldering Equipment, Valve Heaters.
Crankcase Heater Applications: Crankcase heaters are used to overcome the problem of migration and condensation of refrigerant in the crankcases of compressors used in air conditioning and heat pump systems. They are designed to keep the crankcase oil at a temperature higher than the coldest part of the system to prevent migration.
Glasrope Heater Applications: Pipes, Tubes, and other similar apparatus where spot or particular locations need to be warmed. Odd shapes such as: Laboratory Beakers, Valves, and Piping, Appliances, Drier Units for Blueprint Machines, Incubators, and Tracers for Pipe Lines.
Strip Heater Applications: Dies, Molds, Plastic Forming and Sealing, Tank and Kettle Heating. For specific applications, correctly rated elements should be used to prevent overheating and to ensure long life.
Technical Articles