Drive Shafts & Yoke Drives
Featured Product from jbj Techniques Limited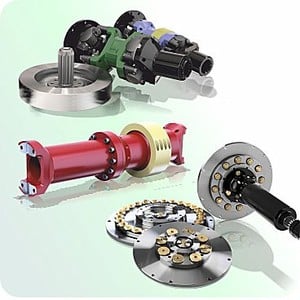 Transmit mechanical power using these drive shafts strong enough to bear the stress, while avoiding too much additional weight which would increase inertia of the system. Vibration damping and misalignment correction built in.
» Dampen vibration.
» Easy installed maintenance for extended life.
» Wide range of shaft configurations. Custom designs and lengths.
» Dummy flywheel assemblies.
» Production test stand approved.
» Heavy duty, rugged steel design.
» Used on test stands worldwide.
AND the yoke drive flywheel couplings:

» Rugged, steel construction.
» Provide a steady dampening effect under load.
» Designed for maximum life, when operated at normal engine speeds, torque and alignment.
» Absorb vibration and shock loads, lengthening the life of your pump or gearbox components.
» Eliminate human error with an easy, one-piece design.
» Operating temperatures: -40°C to +104°C (-40°F to 220°F).
» Various series for standard SAE wheels and non-standard wheels, including engine housings.
» Competitively priced and normally in stock.
https://www.jbj.co.uk/drive-shafts.html

https://www.jbj.co.uk/yoke-drives.html
The team of friendly, highly qualified and experienced engineers at jbj Techniques Limited are here to assist in the correct specification of mechanical power transmission and fluid power components. Telephone: +44 (0)1737 767493 or email info@jbj.co.uk
#DriveLineHarmony