Profile Home
About

mechanical & fluid power transmission
» product specification
team of design engineers to assist in design process simple or complex, standard or bespoke
» prompt product supply
large stocks for next day delivery on many items
» machine shop
full machining services for bespoke designs
jbj Techniques integrate extensive product knowledge and specification ability with excellent machine shop services and comprehensive product stocks to provide the service needed to keep your machinery systems performing to the optimum.
You can have product straight off the shelf from our well stocked warehouse but our unique selling point is our ability to provide packages of proficiently thought out, precisely machined, components to suit the needs of your application which could be large or small, complex or straightforward.
jbj Techniques deal with customer needs; products for new systems design and support, and most importantly limiting existing machinery downtime.
Manufacturer and distributor of quality products for mechanical & fluid power.
Extensive knowledge, extensive ability, extensive products.
Customer needs are the centre of our business.
jbj Techniques is a specialist supplier of high-quality products for the mechanical power transmission and fluid power sectors. The company offers a high level of in-house expertise plus a huge selection of products to meet a very broad range of customer applications.

From specification, through technical advice and manufacture to after-sales support, jbj Techniques provides a comprehensive and valued service to the power transmission and hydraulics industries. The company fields a UK-wide team of technical sales engineers to ensure that the business is close to its customers, and it enjoys excellent associations with European manufacturers, acting as sole UK distributor in many cases.







jbj's team is recognised for its expertise in the selection and configuration of hydraulic and mechanical transmission systems. Able to draw on an extensive product range that provides the building blocks for bespoke systems both large and small, the in-house design team offers a complete service, ranging from an assessment of customer requirements to full technical backup, including product specification, CAD based system design, system build and certification. Moreover, customers can take advantage of jbj's own machineshop facilities and skilled engineers to guarantee quality
and control costs.

jbj Techniques provides probably the widest range of couplings available within the UK with 14 different designs and 22 different styles of gear couplings alone.
The product portfolio includes miniature couplings, allsteel gear couplings, flexible spider couplings, shaft couplings, torque limiting couplings, disc and grid type couplings, ATEX compliant and shaft locking devices.
However, as extensive as the selection is, couplings make up a fraction of jbj's portfolio. In addition, the company can provide gearboxes, clutches, pumps, hydraulic motors, flow meters, fluid power accessories - including cooling systems, reservoirs, seals and indicators - as well as a variety of bell housings and flanges, to name just a few of the product categories.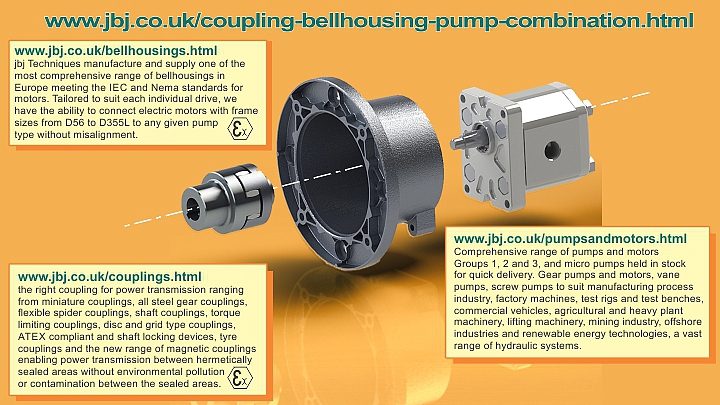 jbj Techniques Limited is proud of it's relationship and reputation with customers and suppliers. The core client base is stable and loyal, which is testament to the quality of service provided by the company. A similar relationship exists with suppliers, ensuring a continuing high-quality service in which customers can have complete confidence.
jbj Techniques Limited is listed in these service categories:
Technical Articles


Correctly specifying BD & BDS clutches
(Power Transmission)
BD clutches must initially be selected to match the available SAE flywheel and housing offered on the prime mover. Subsequent study must be made to ensure that the clutch unit selected is capable of... (
View Full Article
)