CA-410 for Display Calibration
Featured Product from Konica Minolta Sensing Americas, Inc.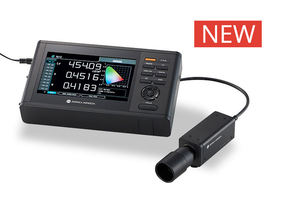 The greater intensity and wider color gamut of OLED devices have created a need for a new level in measurement performance. The high accuracy of Konica Minolta's CA Series Display Color Analyzers has become the standard within the display industry. Our customers have come to expect value and superior technology found in Konica Minolta's analyzers.
The CA-410 is the next step in this analytic technology. The enhanced accuracy of the XYZ filters, the CA-410 pushed its spectral sensitivity even closer to the color-matching functions defined by CIE in 1931. The accuracy of chromaticity measurements has been further improved by calibrating the analyzer with reference that replicates the optical spectrum of current displays. Users can more accurately measure and adjust the chromaticity and white balance of displays that have a wide color gamut.
Accuracy-Guaranteed Luminance Measurement Range 25 Times Wider than the Previous Model for Higher-Quality HDR Displays!
Recently, demands for higher-quality images and video have been growing among smartphone users, due partly to dramatic increases in communication speed. In response, manufacturers are accelerating the development of higher-resolution displays with improved contrast ratio and color reproduction, such as HDR displays. As a result, manufacturers of such displays require a color analyzer with a wider measurement range, from extremely low to high luminance.
With its new sensor circuits, the CA-410 achieves an accuracy-guaranteed luminance measurement range from 0.001 to 5,000 cd/m2, 25 times wider than the CA-310.
A primary feature of the CA-410 is flicker measurement. The CA-410 is capable of measuring both JEITA and contrast flicker. A new addition to the CA-410 is that it has an expanded frequency measurement range and adjustable frequency response. Allows accurate characterization of the flicker characteristics of modern / cutting edge display technology.


CA-410 increased luminance measurement range is suited for the measurement of high dynamic range displays. Allows accurate luminance and color characterization of HDR displays.
Continuing to work with long-standing CA-series customers and responding to their needs, we developed the CA-410 to deliver higher reliability for a wider range of measurement targets and applications. CA-410 is accurate from ultra-low to high brightness, and responds to the demands of the industry for improved precision and measurable performance.
The CA-410 is optimized for even better integration as a sensor with a motorized zero-point calibration shutter for automatic unmanned support and direct connection between probes and a computer for a more compact installation. At the same time, it maintains compatibility with its predecessor model, the CA-310, by including the same basic commands in the CA-SDK2 as were available in the software development kit of the previous model. The installation holes of the threaded probe also remain in the same position as available on previous models allowing for a seamless and effortless decision to upgrade. The CA-410 is the next generation in light measurement. Don't miss out on this opportunity to be a part of the future!