detect extremely low luminance
Featured Product from Konica Minolta Sensing Americas, Inc.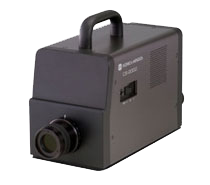 The CS-2000 Spectroradiometer enables accurate luminance and chromaticity measurements of various optical devices and features the world's top level capability to detect extremely low luminance levels of 0.003 cd/m2. It is easy to operate with a color LCD screen and a simple operation panel.
Designed to thoroughly eliminate mechanical and electrical noise factors, the CS-2000 makes quick measurements with repeatability possible even at low luminance levels. Measurements can be started after a warm-up time of only 30 seconds and calculated in as little as 5 seconds eliminating mechanical and electrical noise factors.
The CS-2000's low polarization error of 2% ensures more stable measurements of display devices that use polarization, such as LCDs. Featuring a selectable measuring angle for measurements of tiny areas, the CS-2000 enable you to select the optimum angle according to the application. With an operating temperature range of 5° to 35°C, this instrument ensures reliable operation in any work environment.
The CS-2000 has three measurement settings, internal and external synchronization, and multi-integration mode. Synchronization can be done either internally with user inputs or externally via line input. Multi-integration mode reduces variations due to unsynchronized measurement or synchronized measurements of sources that have irregular light emission cycles.
Features:
Detects extremely low luminance - as low as 0.003 cd/m²
Easy operation with a color LCD screen
Measuring angle switching function
Low polarization error - Ideal for LCDs
Quick measurements
3 measurement settings: internal synchronization, external synchronization and multi-integration mode