Seals for ATEX Applications
Featured Product from MECO Shaft Seals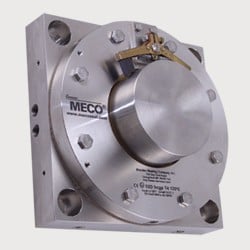 The use of packing glands and other high-friction seals in ATEX service can create an uncontrolled heat source and many European processors require alternative seals which are ATEX-compliant. Some mechanical seals advertise ATEX compliance, but require a liquid barrier for cooling, which is usually unacceptable in dry bulk processing applications. MECO's soft-face technology uses materials with high inherent lubricity, which run cooler than radial, constricting seals without the use of fluid lubricants.
Several MECO seal models are available with ATEX certification. Common to all are a risk assessment, thermal testing and documentation, combined with a variety of protective measures designed to eliminate ignition sources, control surface temperatures and isolate process from atmosphere.
Before leaving the factory, every EX-marked MECO seal is run-tested under simulated process conditions to document surface temperature in operation and ensure that run temperature falls within the required temperature class and safety margin. A thermal test certificate is furnished with each seal.
Visit our website for more information, www.mecoseal.com