FUSE EXISTING LINES WITHOUT INTERRUPTION
Featured Product from McElroy Manufacturing, Inc.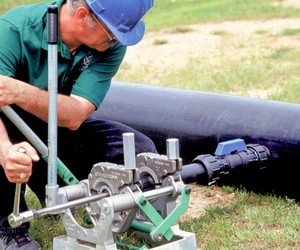 FUSE EXISTING LINES WITHOUT INTERRUPTION WITH HOT TAP TOOLS
McElroy's Hot Tap Tools make it possible to add new service connections to live water or gas mains while keeping existing services up and running. The tools have been available for a number of years and are available in imperial sizes and metric sizes for Polyethylene as well as a tool specifically designed for Polypropylene pipe.
They provide the most precise and economical way to tap through 2″, 3", 4", 6" and 63mm – 160mm branch saddles. The gland is customized to meet the user's material of choice, eliminating the need for material compatibility fusion in the field.