LetterLok 4000 Fastening Machine
Featured Product from Norlok Technology, Inc.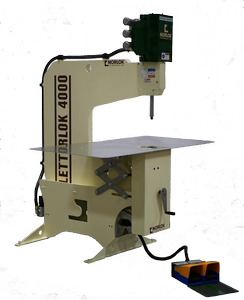 With its versatile design and unsurpassed features the LETTERLOK 4000 will reduce your channel letter fastening costs and outperform the competition.
Now featuring the SPR tooling option. Self piercing rivet option is ideal for fastening aluminum composite material or poly carbonate. Can be retrofitted to existing Letter Lok 4000.
Features Include:
Faster cycle times For more production (60 – 80 cycles a minute)
Greater capacity Clinches 2" – 10" deep letters
Larger table 30" x 60" for operator convenience
UL recognized tooling Chief Enterprises special tooling, in conjunction with the Letterlok series of machines, produce a UL recognized clinch for channel letters
Simple tooling adjustment Little or no set-up time
Air powered (no electrical hook-ups necessary)
Foot pedals operate lower tooling and clinch cycle for increased productivity
More than 20 years of design experience Proven reliability and quality
Affordably priced Low investment and faster payback
When you combine all the features, benefits and quality the LETTERLOK 4000 sets the standard for the Channel Letter industry.
Click to watch video in action.
Please click on the links to the left for more information or request a quote today!