Air Sampler PCE-AS1
Featured Product from PCE Instruments / PCE Americas Inc.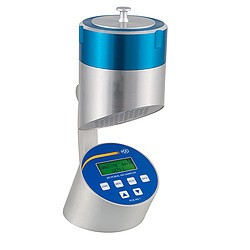 PCE-AS1 is an air sampling meter used to assess microbiological pollution and monitor hygiene. Designed for use in hospitals, clean rooms and food and beverage, cosmetics and pharmaceutical production facilities, the PCE-AS1 air sampler meets the latest requirements for devices used for airborne microbial analysis. Optional ISO calibration lab certificate as an accessory.

The PCE-AS1 air sampler uses the aerosol impaction principle or Andersen collision principle to assess air quality. The air taken in at the top of the instrument is pulled through 300 micropores and the resulting laminar air flow is directed onto the surface of an agar petri dish. When the sampling cycle is complete, the petri dish is removed and incubated. The bacterial and fungal counts can then be assessed in accordance with USP 797 and CAG-009 guidance.
The collecting head should be sterilized in an autoclave at 121° C for 30 minutes (sterilization with a cloth with 75% alcohol is also possible.) The petri dish should also be sterilized with 75% alcohol.

- Features user-friendly navigation, a compact and easily portable design, and a backlit LCD screen
- Accommodates manual adjustment of timed volumes from 10 to 6000 liters
- Offers data storage and backup for up to 99 parameters and 2000 measurement records with time, date and volume
- Boasts a flow throughput of 100 liters per minute (lpm) or 3.53 cfm
- Assists with hazard analysis and critical control points (HACCP) system implementation
- Aids in compliance with the US Food and Drug Administration's (FDA) Food Safety Modernization Act (FMSA) and with ISO 14698-1
- Runs off a rechargeable battery or AC power
- Supports standard Petri dishes of 90 mm with or without pipe inputs
- The unit comes calibrated by the manufacturer.
- At the time of purchase, an ISO calibration certificate may be added as option - see accessories for details