Videoscope PCE-VE 200-S3
Featured Product from PCE Instruments / PCE Americas Inc.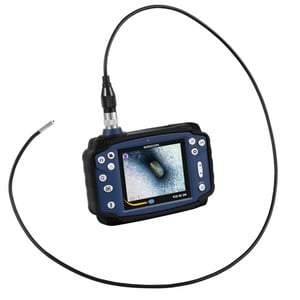 PCE-VE 200-S is an industrial inspection camera, endoscope or borescope for the non-destructive evaluation (NDE) of engines, machines and more. This industrial borescope provides excellent image quality at an affordable price. An ideal tool for diagnosing issues in hard-to-reach places, the waterproof camera head features 6 LED lights with adjustable intensity for optimal illumination. In addition, digital image magnification or zoom of up to 4 times is available.
The borescope stores the recorded images and videos directly to a micro SD card memory. The 3 m / 9.8 ft cable length and
3.7 mm
/ 0.14 in diameter allow the video inspection camera unique access to view the insides of walls, pipes, vents, ducts, engines and machinery, thus eliminating the need for costly and time-consuming dismantling. Mechanical engineering, manufacturing, automotive, aviation, construction, plumbing and heating, ventilation, air conditioning and refrigeration (HVACR) professionals alike find this video inspection camera useful in a variety of applications.
***Not for medical use***

- Waterproof camera head (IP67 protection class)
- 3.7 mm / 0.14 in diameter
- 3 m / 9.8 ft cable length
- 180° screen rotation
- 3.5" LCD display
- CMOS chip image sensor
- 1600 x 1200 pixels JPEG image / 640 x 480 pixels AVI video resolution
- Micro SD card memory
- Micro USB 2.0 and TV outputs