Custom elastomer component design
Featured Product from Precision Polymer Engineering Ltd.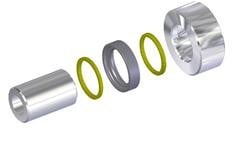 PPE offers a comprehensive design and modelling service for seals, custom moulded elastomers and bonded components.
Typical services include:
Material recommendations, based upon chemical and mechanical constraints.
O-ring size optimisation to maximise sealing efficiency and life.
Groove size recommendations.
Custom seal design.
PPE application engineers design components using SolidWorks®, which offers three dimensional parametric Computer Aided Design (CAD) capabilities. Design intent is captured once into CAD and then reused to drive all design and manufacturing processes; from 2D & 3D non-linear Finite Element Analysis (FEA) using ANSYS®, through tool manufacture, to 3D work instructions and 2D inspection drawings.