DR7AC DIN Rail Mounting Amplifier
Featured Product from RDP Electrosense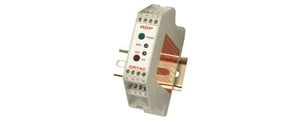 DR7AC DIN Rail Mounting Amplifier
The DR7 is a DIN rail mounting amplifier designed to install in suitable cabinets along with other similar devices.
To reduce electrical noise, system problems and the risk of accidental damage the DR7 has full isolation between supply and output.
A wide supply voltage tolerance and selectable excitation ensure that the DR7 is compatible with a very wide selection of transducers and applications.
Compatible with any standard RDP LVDT (without integral electronics) LIN & PY When fitted with two 1k Ohm bridge completion resistors ( Does not provide analogue voltage linearisation for PY) Most LVDTs from any manufacturer
About us
RDP is a designer and manufacturer and distributor of LVDT displacement transducers, amplifiers, load cells and pressure sensors for use in a wide range of applications. We are privately owned by the two directors who started the company in 1966. Our extensive range LVDT displacement sensors and amplifiers are manufactured by us at our UK head office and factory. RDP was one of the first manufacturers of LVDT displacement transducers and the first to build the LVDT signal conditioning amplifier into the sensor.
With over 50 years of experience designing and manufacturing LVDTs and other types of linear position transducers we can normally offer a solution from our vast knowledge base to meet your application requirements.
Call us at 1-800-334-5838 to discuss your special needs with one of our application engineers and we will design a custom solution.