Multi-Channel Signal Conditioning Systems
Featured Product from RDP Electrosense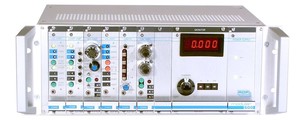 Modular 600 Multi-Channel Signal Conditioning System
Signal conditioning is required where the output of a transducer needs to be boosted or changed into a form suitable for the monitor or logging device which will be used. A very wide range of gain adjustment ensures that our amplifiers are compatible with the vast majority of LVDT and strain gauge sensors available from any manufacturer.
Modular 600 signal conditioning allows the customer to select the type and quantity of input cards required for the application from a number of different types available. The system can be supplied with optional monitor/display/data logger units if required.
Firstly decide the type and quantity of modules required making sure to include any future requirements. Then decide if you need a monitor or data logger. Finally choose an appropriately sized housing with a power supply and blank panels to cover any unused slots.
About RDP Group:
RDP has been manufacturing Transducers and Electronics for over 50 years. Their specialty lies in the field of measurement of physical parameters:
•Displacement Measurement Sensors
•Load Cells
•Pressure Transducers
•Signal Conditioning Amplifiers / Panel Meters for all types of sensors