XM-60 multi-axis calibrator
Featured Product from Renishaw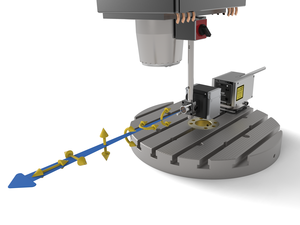 The XM-60 is a laser measurement system capable of measuring errors in six degrees of freedom along a linear axis, simultaneously from a single set-up. It provides a powerful diagnostic tool to measure all geometric errors in the axis from a single capture.
For users of volumetric compensation XM-60 provides a quick and accurate method of data population. All measurements are made optically allowing use in any orientation.
Key features and benefits:
Quick - linear, pitch, yaw, roll, horizontal and vertical straightness measurement in the same time as a single measurement with conventional laser techniques.
Simple - easy set-up, familiar to users of other interferometric systems. Automatic sign detection and graphical alignment minimise human errors.
Reassuring - measuring all errors directly allows the user to see results as the test is in progress.
Capable - unique optical roll measurement system provides roll measurement in any orientation.