Profile Home
About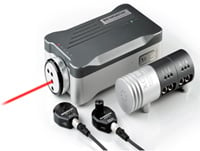 Renishaw is an established world leader in metrology, providing high performance, cost-effective solutions for measurement and increased productivity. The Group's products provide manufacturers with the ability to machine components accurately, and perform measurement traceable to International Standards. Wherever precision manufacturing is required, using Renishaw's products ensures that exacting specifications are met, with cost-effective methods.

Probe technology, together with associated software, allows fast, highly repeatable measurements to be carried out on Co-ordinate Measuring Machines (CMMs). Probe repeatability can be one third of a micron. A wide range of automated probing systems have been developed to meet the needs of post-process inspection including the revolutionary Renscan5 high-speed 5-axis measurement system. Unlike conventional scanning methods, which rely on speeding up the motion of the CMM's three axes in order to scan quickly, 5-axis scanning uses synchronized motion of machine and head axes to minimize the dynamic errors of CMM motion at ultra-high scanning speeds. Up to 500 mm/s is possible without any loss in accuracy.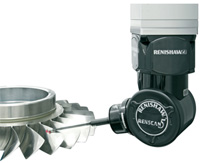 During the manufacturing operation, probes used on Computer Numerically Controlled (CNC) machine tools provide the measurement capability to automatically control the machining process. This eliminates the need for costly, time consuming manual procedures.

Renishaw gives extra capability to CNC machine tools and CMMs by enabling scanning and digitizing of 3-Dimensional (3D) forms to generate the necessary NC programs to produce either replica parts, or molds and dies. Scanning probes can be retrofitted easily, which, when used with Renishaw's software, enable exact or scaled models to be produced. CNC machine tools and CMMs benefit from regular volumetric accuracy checking by using Renishaw's automated ballbar and machine checking gauge. Comprehensive machine calibration can be undertaken, when necessary, using Renishaw's innovative laser calibration systems.

Renishaw has developed linear scale and encoder systems for a variety of applications, to provide axis displacement measurement. Dedicated lengths of rigid scale are not required, since Renishaw's approach has been to produce flexible scale that can be dispensed from a reel and cut to the required length.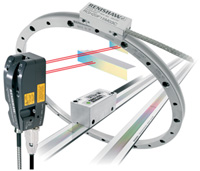 Laser scale systems have been developed for applications, which vary from determining track positional information on computer disk drives, to use as a positioning system on machines that manufacture parts for the aerospace industry.

Renishaw has also applied its innovative approach to produce a Raman microscope for 2D spectral analysis of materials in a non-destructive manner. From its leading market position, the Renishaw Group continues to expand its product range into ever increasing business sectors, worldwide. Identifying and targeting new market opportunities has led to the continuous development and introduction of new, highly innovative products which significantly enhance the manufacturing capabilities in a wide range of industries.
Technical Articles