IP69K Rated Control Devices
Featured Product from Schmersal Inc.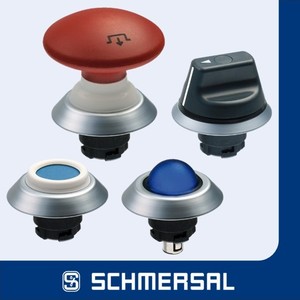 Schmersal has developed a family of controls that meet the IP69K rating for high-pressure, high-temperature wash-down applications. This rating provides waterproofing protection that exceeds NEMA 4X rating: the enclosures are more than dust tight (IP6X), they also withstand high-pressure (to 1,450 psi) and steam cleaning (to 80°C).
The controls have been designed with flexible seals to protect the gaps between fixed and moving parts and with smooth surface contours and transitions, which deter bacterial growth by limiting possible places for food and other particles to collect. Enclosures and seals are composed of materials that are food compatible, UV and ozone tolerant, and can withstand caustic cleaning solutions without degradation, thereby maintaining reliability and prolonging switch life.
The IP69K rated control devices include pushbuttons, mushroom buttons, emergency stops, selector switches, step switches, main disconnect switches, and indicator lights. These devices have a standard 22.3 mm installation diameter and utilize a modular contact terminal block system, which allows application flexibility. The pushbuttons, mushroom buttons, and indicator lights are available in a variety of colors and can have various symbols custom imprinted on them.
These IP69K rated controls are suitable for hygienic applications in the food processing, pharmaceutical, petrochemical, and medical industries. They can also endure outdoor applications - controlling marine, trash hauling, and construction machines.