Battery Pack Vent
Featured Product from Shenzhen Milvent Technology Co., Limited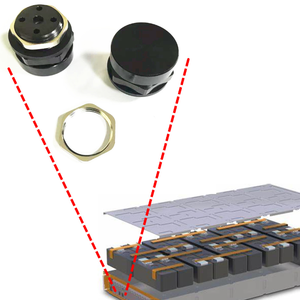 Performance:
Block ingress of wide range of contaminants,from rain and insects to dirt,dust,sand and other,particulates,best to use under the tough environment.
IP 67,IP68,IP69K and -40°C to +125°C operating temp.range
Installing on the side/Vertical face of enclosures is effective for outdoor use.
Breather plug with aluminum cover and specially-designed internal valve and venting filter inside,The filter venting always make the pressure equilibrium and protects your enclosure.The valve opens to release high pressure when a failure conditions of battery pack,or rapidly heating in Gearbox,or Tank,Container.,etc.
It is especially recommended for Battery Pack EV,Gearbox,Powertrain,Oil Tank,Chemcial Container,Seal Enclosure with battery.,etc.
Application:
EV Battery Pack
Powertrain
Assembly
Gas Tank