Steam & Water Washdown Station
Featured Product from ThermOmegaTech®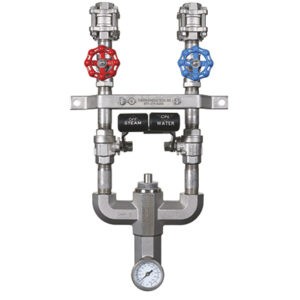 The STVM® Washdown Station has been designed to put the safety of your operators first, thanks to its innovative technology. The system utilizes a thermal element located in the downstream leg of the mixing valve. The thermal element is designed to throttle steam flow should the temperature set point be exceeded and will completely shut down at 15°F above set point or if cold water flow is interrupted. The thermal element will not re-open until cold water flow is restored.
Washdown Highlights:
Wide steam and water operating pressure ranges.
Unique mixing design with only one moving part.
Thermal actuator controls steam supply.
Valve cartridge is very easy to remove.
Safe operation: auto shut-off of steam if cold water flow is interrupted.
Mixing valve cartridge designed for ease of maintenance.
In-line field serviceable mixing valve: cartridge element can be easily replaced in minutes making the washdown station work like new again.
Provided with heavy duty globe valves and interlocked ball valves, allowing for cold water only operation, but not steam only.
Check valves, stainless steel thermometer, globe valves and stainless steel hose rack standard with all units.
Download product brochure to learn more.