Trotec Vision Design & Position
Featured Product from Trotec Laser, Inc.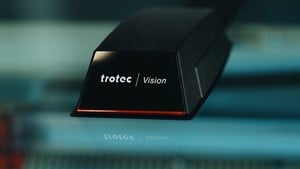 The most intelligent laser engraver, Speedy 400 Run on Ruby®, just got smarter with Trotec's new Vision Design & Position vision positioning camera. The 12-megapixel patent-pending lid camera delivers a live image of the work area to the Ruby laser software in seconds. No need for navigating between laser engraver and third-party software as the job can be changed and edited directly on the live image in Ruby.
Discover the Speedy series: https://bit.ly/3wVHZIg
More about Vision Design & Position: https://bit.ly/38RMMCO
Discover more about Ruby®: https://bit.ly/3N3pBUg