Hydra-Cell Positive Displacement Diaphragm Pumps
Featured Product from Wanner Engineering, Inc.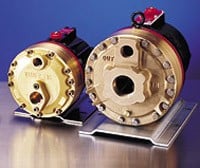 Hydra-Cell's unique seal-less, hydraulically-balanced diaphragm pump handles difficult applications eliminating problematic mechanical seals, packing or magnetic couplings. The compact design reduces space requirements and acquisition costs, and the multiple diaphragm configuration provides non-pulsing flow for accuracy, linearity and repeatability. The Hydra-Cell pump has the ability to run dry indefinitely and handle small solids and abrasives at pressures of up to 2500 PSI.
The Hydra-Cell pump features Kel-Cell, the patented diaphragm position control technology that protects the diaphragm from failure due to high inlet vacuums caused by inlet pipe blockage, closed inlet shut-off valves, clogged strainers and high viscosity fluids.
Hydra-Cell pumps' durability, performance and simplicity of design make them the optimal choice for the widest range of pump applications. Regardless of the application, the Hydra-Cell pump is built tough to get the job done without the constant worry of premature failures and high maintenance and repair costs. Additionally, Hydra-Cell pumps have demonstrated lower Life-Cycle Costs than many centrifugal and other positive displacement pumps.
Hydra-Cell Features:
Flows from 0 - 37 GPM at pressures to 2500 PSI
Wide choice of materials for pump heads, diaphragms and valve assemblies
Short lead times
Robust construction for long life in difficult industrial applications
Runs dry indefinitely
Sealless design provides leak-free operation
Non-pulsing flow eliminates expense of pulsation dampeners and reduces pipe strain
Accurate, repeatable and linear flow
High volumetric efficiencies
Low power consumption
Minimal maintenance - no cups, packing or seals
State of the Art manufacturing
Hydra-Cell Pumps are "Simply Built...to Last!"