Door Strikes Information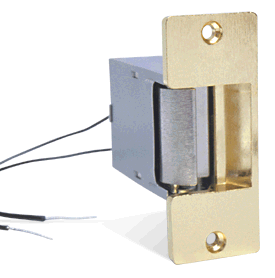 Door strikes are metal plate devices that are installed within a door jamb to stop and retain a door when closed. Multiple operational configurations are available for differing door bolt options as well as the action of the clasp mechanism and level of security.
Door strikes are usually recessed into the door frame providing a refuge for door bolts to keep doors closed and locked. Standard door strikes are simple, usually curved tools that assist the bolt into the frame. Some strikes have multiple holes allowing for deadbolts or another type of lock. The strike reinforces the frame of the door, which could be otherwise be easily bypassed or overpowered.
Types of Door Strikes
Standard door strikes have no moving parts and are reliant on the correct alignment and pressure of the door bolt to hold and maintain a closed position.
Electric door strikes work differently, allowing the door bolt to remain permanently extruded and holding the bolt into the frame. Electric strikes can be integrated in electronic access systems and allow for remote operation, and can draw from AC or DC voltages in range from 5 to more than 120 volts. In the event of a power outage, electric strikes have a default (locked or unlocked) to which they revert. Magnetic door strikes hold doors through the use of a strong magnet, but are also powered by electricity.
Resources
Smart Home - Electric Door Strike
The Hardware Hut - Door Strikes
Image credit:
SafetyEd