Spray Shields Information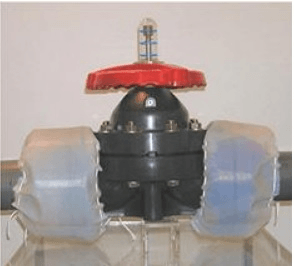 Spray shields are shields or wraps that cover flanged pipe joints. Spray shields prevent and reduce injury to workers and damage to equipment and property by containing hazardous leaks and sprays within a barrier. The potential for pipe leaks and ruptures is reduced with early leak detection maintenance, and prevents downtimes from failures or avoidable accidents.
Applications for spray shields exist within many industries, but they are particularly useful in process industries where the pipe media is toxic, corrosive, flammable, or dangerous, such as in steam or liquid gas conduits. They are also known as safety shields, flange wraps, and flange guards or covers. Shields sometimes use hook and loop mechanisms or similar fasteners to hold the wrap in place.
Types
Spray shields are commonly made of cloth, steel, stainless steel, and thermoplastics such as polyethylene (PE), polyvinyl chloride (PVC), polypropylene (PPE), tetrafluoroethylene (TFE), fiberglass, and ethylene chlorotrifluoroethylene (ECRFE). Spray shields are generally opaque but can have clear windows when made of a thermoplastic material.
Shields are mounted directly onto a flange joint, encompassing the joint, and tautened with drawstrings or another tightening method.
Spray shields can be manufactured to fit a variety of joints that may potentially fail, such as:
Flanges
Valves
Couplings
Unions
Elbows
Tees
Clamps
Pumps
Customized connections
Standards
ASTM F1138 -- Mechanical joint spray shield specifications
References
Corrosion Fluid Products—RAMCO™ Safety Shields for Valves, Flanges, Expansion Joints & More
Drake Specialties—Safety Spray Shields
Image credits: