Millwright Services Information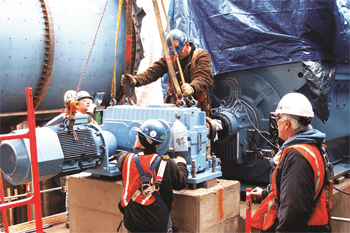 Millwright services move, assemble, position, install, and perform repair work on equipment or industrial machines in industrial facilities. Examples of equipment worked on include power generators, assembly lines, machine tools, turbines, and other heavy equipment.
Millwrights are craftsmen who combine the skills of several trades to build and maintain machinery. A typical modern millwright is trained in rigging, welding, steel fabrication, turbine and generator installation, and conveyor servicing, among other technical disciplines. In addition to their primary tasks of installing, moving, and dismantling machinery, millwrights may also be called upon to provide routine maintenance, including lubrication and replacement of common wear parts such as bearings and shafts.
Millwrights must have many skills, including reading blueprints and schematic drawings, using large equipment, such as hoists, cranes and trucks, as well as hand and power tools. They must be able to develop work plans, follow step-by-step procedures, work to precise accuracy standards, and solve problems as they arise.
Video credit: "Millwright – What is it and how do you become one?"
Image credit: