Vise Jaws Information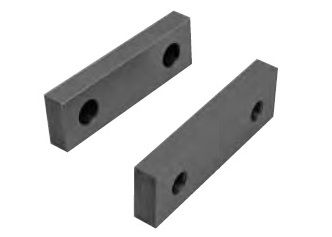 Vise jaws are inserts that fit into a vise and grip the workpiece. There are many different types of products. Aluminum vise jaws are used to hold and protect round, hexagonal, or serrated parts. Rubber-faced vise jaws are also used to protect fragile parts from damage and may be suitable for holding irregular shapes. Soft steel vise jaws are commonly available. Hardened step vise jaws have tapped holes in both ends and a low profile for added clamping force. Hydraulic vise jaws equalize pressure on independent pistons and can compensate for variations in workpiece size. Magnetic vise jaws use a strong nitrile magnet to hold jaw inserts in place. Oversized plate jaws are designed to hold fixtures or oversized plates. Toothed vise jaws have sturdy teeth that penetrate the workpiece. They are designed to hold parts in place during aggressive machining operations.
Specifications
Product specifications for vise jaws include:
materials of construction
width
length
color
Metal vise jaws are usually made of aluminum or soft steel. They are sometimes heat treated, anodized, or coated with black oxide. Plastic vise jaws are usually made of polyurethane (PU), a broad category of polymers that resists abrasion and solvents to varying degrees.
Features
In terms of physical dimensions, vise jaws are specified in English units such as inches (in), or metric units such as centimeters (cm). Wide spacing between the jaws is used to accommodate longer or wider workpieces. Most vise jaws are black, silver, or gray in color; however, products that are made of die-cast metal are sometimes available in red, blue, green, or yellow.
Applications
Vise jaws are designed for use with vises, machine tool accessories that hold workpieces in place during assembly, forming, inspection, machining, or welding operations. A vise consists of a screw, level, or cam mechanism that closes and holds two or more jaws. Vise jaws are used in a variety of applications, but may be specialized for automotive, aerospace, or medical purposes.
Standards
Vise jaws may also meet specific quality standards for materials. For example, some metal vise jaws conform to steel standards from the American National Standards Institute (ANSI) or the American Society for Testing and Materials (ASTM).
Related Information
CR4 Community—New Approach to Chucking by Soft Jaws
CR4 Community—How Do I Disassemble an LFA Chuck?
CR4 Community—How Does a Pipe Wrench and a Vise Grip Work?
Image credit: